Testimonials
"I took a bad fall when I was 9 years old and have been using chiropractors since then. Of course, my profession (sitting at a computer all day) doesn't help my back either. But since beginning the belly dancing with you, my range of movement, back pain, etc. is so improved; the chiropractor, just by feeling my back and seeing how the adjustments were going, asked what I was doing differently!" Michele H. Accountant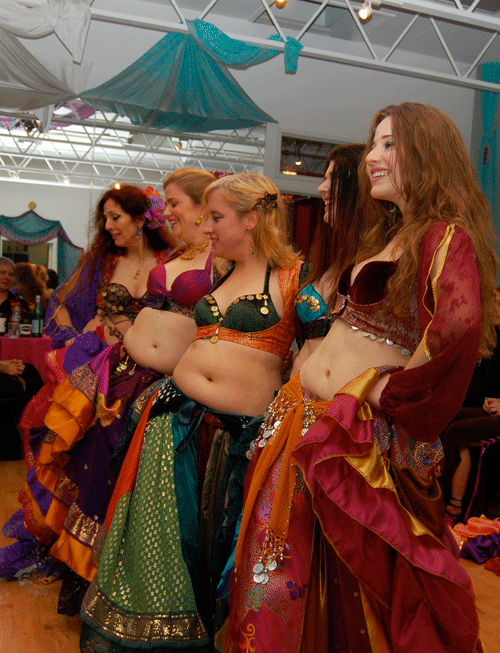 "Thank you Dhyanis for all your inspiration, guidance and teaching over the years. Not only have you taught me as a dancer, but as a friend who has set a high standard of graciousness, love, humor, generosity, playfulness, passionate fire, and the juice of the Goddess. I have grown into a woman who knows her beauty, her body, and the play that dance can be."  Tatanya J.
"I went through 6 years of intense medical interventions to combat severe endometriosis, achieve pregnancy, and give birth to 2 boys. I felt as if my body had been through a war. When I first heard about your class I was skeptical. Dance is my primary spiritual exercise…I didn't know if I could be spiritual while embracing as art form that came from a culture(s) which persecuted women. I have come to find in your class an abundance of femininity, divinity, humor, companionship and acceptance. You have a lovely way of finding the beauty in every dancer, no matter her form or ability. I am able to park my ego at the curb and enter a sacred space where many cultures are thrown into the melting pot of dance to make us all more humane and understanding." Joan
"At age 45 and newly diagnosed with degenerative disk disease, I went from running 5 – 17 miles per day to becoming progressively disabled.  Severely depressed and searching to find joy in my body I found Dhyanis…the miracle is that my spine is regenerating with belly dance. I believe it is in the way Dhyanis teaches…she is able to harness our warrior and goddess to find strength and grace."    Lia M.
"It was a pleasure to meet both of you and I very much enjoyed attending the 'Hafla' (Belly Dance Performance Party). It was wonderful to watch all the dancers from your school, Troupe Dhyanis, and of course the two of you dancing. You are truly WorldDance Goddesses, and now I understand! I absolutely LOVED watching you dance!" Geoffrey K.