We were very excited to win the top prize in the troupe category at the 2012 Bellydancer of the Year competition in San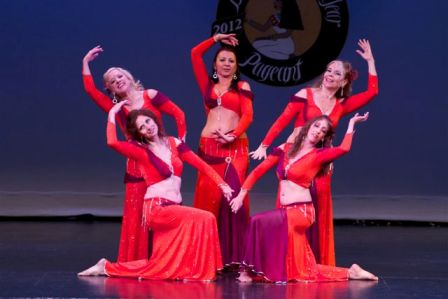 Ramon.
After a competition, we always fine tooth comb the judges' comments to smooth out the things that are consistently mentioned. It definitely pays off, since when this group entered its first competition we did not place, the second time we came in third, and this time we actually won! We are taking our brand new choreography to two more competitions in September and applying all the same principles, specifically precision dancing and posture.
Incorporating culture in bellydance
As choreographer/costumer I am mostly responsible for the categories "Appearance & Costuming," Choreography & Versatility," plus "Originality." For the latter, I like to include a surprise. This winning choreography included unusual fan veil formations and everyone singing aloud with the short song Shik Shak Shok. I designed it to engage both the dancers and the audience in a more cultural connection (I taught the gals the lyrics and the translation so they'd know what they are singing). The upcoming choreography includes some difficult troupe cane patterns, live counting to six in Arabic and is punctuated by unison zaghareets.
Understanding stagecraft
The girls are learning to work the floor patterns with a clear sense of where they belong on stage individually and in relation to each other, plus make subtle adjustments of body angle to avoid collisions and make pleasing tableaux. I hope this energetic awareness translates to their solo dancing as well. They are also learning connection to the audience, how to "act with their back" and general theatrical craft. At every event we try to up the game in all these realms, which helps us shine in the "Professionalism" category.
The joy of self expression
Once all these aspects of dancing become natural (habituated), solo dancing becomes more pleasurable and less reliant on choreography. I still believe the most satisfying essence of this dance is in the improvisation and individual expression. I'm lucky that some women want to dance my choreographies and learn from me, but I wish for all of them to take wings and feel truly comfortable dancing their own unique dance. I do see the difference in each one as she gains confidence and begins to enjoy the music and herself, so I keep on providing opportunities to dance to live music whenever possible.
If you're interested in learning more about my performing troupe — booking us for events or joining the fun, contact me.